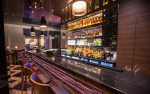 Description
Vanity Bar and Lounge is an upscale venue with a stylish furnishings and interiors that promote conversation and relaxation.   Nightlife with a touch of refinement is what you'll experience when you frequent Vanity's Lounge Bar.  While our venue ooze sophistication, thanks to the very professional service and genial clientele, enjoy dressing up and going out for a good time and good food as part of our nightlife lounge experience.
The selections of wines and liquors are beyond satisfactory, while the phenomenal martinis are headlined by their signature.   This is the place to celebrate the good life
Feast on a number of succulent style dishes before dancing the hours away to popular house beats.
It's also a great spot to drink absinthe and take in a jazz quartet.
Send Message to listing owner